Stock Managing: creating a new item

This card explains the main steps for creating a new item into your stock file.
For creating a new item simply click the New button, once the item file has been selected. An empty form pops up :
Nomenclature
The complete reference of an item consists of its brand, model, category, type and supplier.
A unique code is automatically assigned to each new item. This code is used whenever an item is entered in the patient file or in the cashbox. This code is also displayed on labels
Brands and suppliers are linked. If a brand has been already entered (for an other supplier), the corresponding supplier will be automatically reported, otherwise you may insert a supplier manually or select this one from the drop-down list.
The category and the brand are to be chosen from the drop-down list menu. This list may be changed in the parameterizable tables of WinOptics.
Once the category has been entered, the VAT rate and related default coefficient appear on the card.
Setting Prices
Once the item's references have been set , its purchase and selling price must be specified.
Enter the gross purchase price (excluding discount) and specify possibly the discount percentage. The net price is automatically calculated.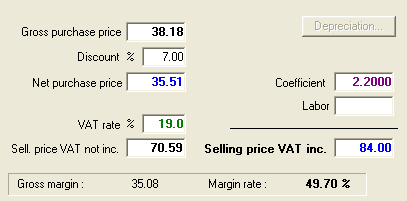 The selling price is automatically calculated trough the application of a coefficient on the purchase price. The selling price and the coefficient are linked, if you modify manually one of them, the other will be recalculated..
Note: The coefficient may be based on the supplier, or on the brand, or on the item category, it depends on the chosen settings. Likewise, The method for calculating the selling price can be based on the gross purchase price or on the discounted purchase price .
Quantity in stock
You just need to define or update the quantity of the displayed items available in stock :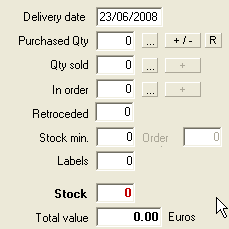 You simply need to specify the date of purchase. To do so, click on the [+/-] button to display the following window :
SEnter the quantity purchased and possibly the note number. During the validation, the quantity is immediately transferred to the stock:
Note: The number of labels to print is also automatically updated depending on the quantity entered. Clicking on the corresponding box can modify it :